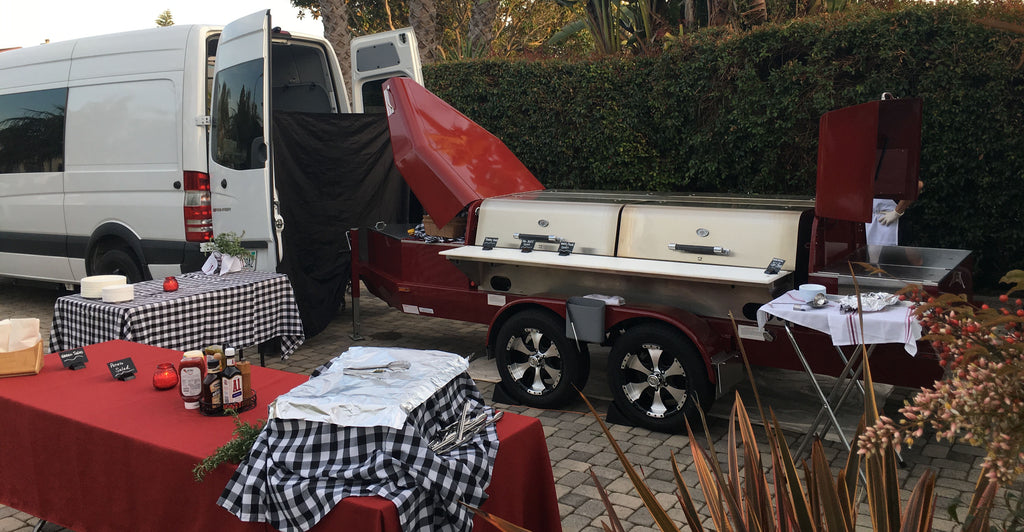 FOR SALE GRILL / CATERING 805.689.2187
Mint Condition Propane Gas-Fired BBQ GRILL / CATERING:
Built-from-scratch and totally custom-made grill available!  Like new condition!  15 minutes from set-up to cooking burgers for 100 people!  An awesome tool to attract attention - great for all types of promotional and tailgate catering!
Priced at $16,995
Contact Jill Shalhoob:
Specifications:
The Tandem all-propane gas-fired BBQ comes in at 15.6 feet long (188") and 5.6ft wide (70").  Total measurement length 'including hitch' and width on trailer. Weight: 2200lbs.
14-gauge steel satin coat body
2000 lb. tandem axles c/w 15" chrome wheels
4 Stainless Steel burner boxes, each with Stainless l top
4 - 30,000 BTU "H" burners per grill section. Each section has temperature gauge
100 liter propane tank with approved propane hoses, valves and fittings
One removable aluminum flat griddle
Two built in ice chests one in front, one in rear
Trailer lighting to federal standards
Folding stainless steel edge protectors (2) (reduces cleanup)
C.S.A. Gas-fired appliance certification for (USA & Canada)
Added Extras:
Spray on "RockGuard" applied to front section and fenders
Remote Stainless Steel Burner hook up
2 Removable cutting boards
Removable spice racks (1 each side of rear cooler)
Drawer utensil cabinet
Storage section for battery to run exterior lights and optional stereo
Rear Steel Trailer Rollers
Trailer is wire ready to add 12v car-stereo and 4 speakers
Collapsible awning
Trailer Grill is ideal when you want your event to be delicious, memorable, and stress-free.
🔥 Great business marketing tool for:
Corporate events


Business luncheons


Weddings

Company Picnics


Graduations


School functions


Personal celebrations

Tailgating at the Games

Social Events

BBQ Rental Equipment Companies
 Pick up and delivery options available.
Transportation fee based on the location from Santa Barbara, CA.
Contact Jill Shalhoob with your Best Offer:
Additional Photos, Video, Manuals, and Receipts are available upon request. Serious inquiries only. 
Thank you, Jill